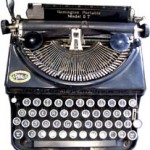 Who would you rather have as your other half in romance, marriage, and domesticity?  A witch or a genie?
Elizabeth Montgomery played Samantha Stephens, a sorceress of sorts in Bewitched.  It aired on ABC from 1964 to 1972.  A housewife, Samantha had powers exceeding those of her peers — laundry, cooking, cleaning.  Bewitched took family fare in the standard suburban sitcom setting and added a twist — Samantha was a bona fide, honest-to-goodness, powerful witch contravening previous connotations, depictions, and impressions of her sisterhood.  She was beautiful, not ugly.  Well-meaning, not malicious.
Montgomery's sex appeal is highlighted in Double, Double, Toil and Trouble, an article in the November 28, 1964 edition of TV Guide.  In this article, Richard Warren Lewis quotes television critic Jack O'Brian of the now defunct New York Journal-American to emphasize the sex appeal factor.
"Miss Montgomery is a uniquely equipped amulet for this feathery hocus-pocus.  She has beauty, youth and a splendid subtlety in her reactions, able to register many a mood most girls would indicate simply by sticking out their tongues; she managers with the merest moves, eyelash batting and eyefuls [sic] of dancing glints in her admirably suppressed 'takes' and just-barely grimaces and amused gloatings."
Despite magical powers at the ready, Samantha's husband consistently refuses to benefit from them.  Dick York and Dick Sargent played Samantha's husband, advertising executive Darrin Stephens.
Columbia's Screen Gems television division produced Bewitched.  The Museum of Broadcasting (later the Museum of Television and Radio and now the Paley Center for Media) honored the studio with a retrospective in 1987 and a companion book — Columbia Pictures Television:  The Studio and the Creative Process:  April 24 – August 1, 1987.
In the essay Screen Gems:  25 Years of Prime-Time Storytelling, David Marc describes the general thrust of the show's husband-wife dynamic.
"In episode after episode, he [Darrin] expects Samantha to entertain business contacts at home but forbids her from using her magical powers.  Even though she can prepare an elaborate banquet with one short spell (usually a singly rhyming couplet and a twitch of the nose), Darrin demands that Samantha slave over a hot stove all day just to satisfy his incorrigibly puritanical vision of marriage."
Darrin and Samantha Stephens appeared in prehistoric form on an episode of The Flintstones, a Screen Gems program that also aired on ABC from 1960 to 1966.
Bewitched premiered on ABC on September 17, 1964 and Screen Gems followed its success with another showcase for an exotic female with mystical abilities.  I Dream of Jeannie premiered almost one year later to the day on rival network NBC on September 18, 1965.
I Dream of Jeannie took advantage of the 1960s space craze inspired by the Mercury, Gemini, and Apollo programs.  Larry Hagman played the show's protagonist, Captain (later Major) Anthony "Tony" Nelson, a NASA astronaut.  While waiting for a rescue team on a desert island after an aborted space mission, he finds a bottle and opens it, thereby unlocking the key to every man's dream — a beautiful, blonde, buxom genie wanting nothing more than to please her new master as he has freed her after 2,000 years of captivity.  Barbara Eden plays Jeannie the genie.
Tony constantly grounds Jeannie's heavenly capabilities, much to her dismay along with that of Tony's pal, Captain (later Major) Roger Healey.  Like Darrin, Tony does not want extra assistance for his career goals.  He receives it, anyway.
In the show's fifth and final season, Tony succumbs to Jeannie's charms.  Two tv-movies brought the characters to prime time:  I Dream of Jeannie:  15 Years Later (1985) and I Still Dream of Jeannie (1991).