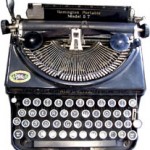 NASA's Golden Age of Projects Mercury, Gemini, and Apollo inspired television programmers and producers to use space as a theme in the 1960s.
I Dream of Jeannie starred Larry Hagman as Tony Nelson, an astronaut living in Cocoa Beach, Florida.  Nelson lives in a small house with Jeannie, a beautiful, buxom, blonde genie played by Barbara Eden.  Despite her master's imploring to not get involved in his problems at work, Jeannie invades because she believes that her powers could provide solutions.  Hysterical results ensued.
Set in the future, Star Trek explores worlds, universes, and planets.  According to William Shatner's proclamation in the opening credits, the U.S.S. Enterprise went where no man had gone before.  Gene Roddenberry created Star Trek, often using allegories of peace, war, brotherhood, and racism as the spine of the episodes.
Lost in Space uses a space launch gone awry as the foundation for its stories.  Swiss Family Robinson in space, the show depicts the adventures of the Robinson family as it tries to return home.  Initially, the Robinsons have a mission to colonize space for the United States.  A stowaway, foreign agent Dr. Zachary Smith, causes the Robinson's space craft to malfunction, thus causing it to travel far from its course.
There was a comic book series titled Lost in Space running concurrently to the television show.  Gold Key published the series, originally called Space Family Robinson; the first issue is dated December 1962.  "Lost in Space" is the title of the first story in Issue #2.  Gold Key used the "Lost in Space" moniker beginning with Issue #15, dated January 1966, only  a few months after the show's debut in September 1965.
A rumor circulated involving Disney artist Carl Barks as the creator of the comic book series.  Ed Shifres, author of the 1996 book Space Family Robinson: The True Story, wrote to Barks for clarification.  He received a letter dated November 6, 1991 supporting Del Connell as the creator.
"First off, my connection to the Gold Key Space Family Robinson comic book stories was zero," explained Barks.  "I neither wrote the stories nor drew any of the artwork.  I believe Del Connell, one of Gold Key's editors was the writer.  My name has gotten hooked into the folklore of the series creation by the fact that I wrote a one-line suggestion to editor Chase Craig around 1960-61 to the effect that Gold Key should do a comic book series of Swiss Family Robinson and title it Space Family Robinson."
The Twilight Zone offered the episode "The Little People" to tell a lesson about bullying.  Astronauts William Fletcher and Peter Craig suffer a malfunction to their space ship, so they land on a planet to make repairs. Craig discovers an area inhabited by people who are the size of ants.  He destroys their property, declaring himself their god.  Consequently, he forces them to build a statue of him.  Fletcher finishes repairing the space ship, but Craig wants to stay in his new kingdom.  You reap what you sow.  Two giant explorers from another planet have a similar problem, so they land on the planet to repair their craft.  One accidentally kills Craig, causing the "Little People" to rejoice.  They culminate their celebration by bringing the statue down, causing it to fall on Craig.