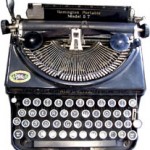 November 13th may be known as Felix Unger day, for that is the day, as stated in the opening credits of The Odd Couple, that "Felix Unger was asked to remove himself from his place of residence.  That request came from his wife.  Deep down, he knew she was right.  But he also knew that some day, he would return to her."
Five years later, he did.  In the final episode of The Odd Couple, Gloria Unger gave her husband a second chance.  Felix and Gloria have their second wedding in the Manhattan apartment that Felix shares with his best friend, Oscar Madison.  Oscar's sloppiness contrasted with the neatness demanded by Felix.  Their friendship endured their arguments, differences, and opposing views of life.  Oscar, a sportswriter for the New York Herald, loved gambling, chaos, and a diet of unhealthy foods.  Felix, a photographer with a specialty in portraits, loved New York City's culture, orderliness, and French restaurants.
The final scene before the credits, also known as the tag, emphasizes the contrast between the characters.  In a salute to their friendship, Felix empties a garbage can on the living room carpet.  Oscar promises that he will pick up the garbage as a salute to Felix.  The friends part company as Felix turns to the next chapter in his life.  Oscar leaves the living room, ignoring his promise.  A few seconds later, Felix returns without Oscar noticing.  He says to himself that he knew Oscar wouldn't pick up the garbage, so he promptly does it.
The Odd Couple featured several guest stars playing themselves during its run from 1970 to 1975.  Opera stars Martina Arroyo and Richard Fredricks, ballet icon Edward Villella, ABC sportscaster Howard Cosell, ABC Monday Night Football Creator and Executive Producer Roone Arledge, tennis greats Billie Jean King and Bobby Riggs, football star Deacon Jones, comedian David Steinberg, disc jockey Wolfman Jack, American Bandstand host Dick Clark, Playboy founder Hugh Hefner, Let's Make a Deal host Monty Hall, Match Game panelist Richard Dawson, child star Rodney Allen Rippy, singer Paul Williams, entertainer Jaye P. Morgan, Password host Allen Ludden and his wife, Betty White, journalist John Barbour, and theater critics Joan Crosby, John Simon, and Dan Sullivan.
Jack Klugman and Tony Randall exhibited a dynamic chemistry as Oscar and Felix, respectively.  In 1997, the duo took on the challenge of playing the lead roles in the Broadway revival of Neil Simon's The Sunshine Boys, a story about a famous comedy duo from vaudeville pushed to reunite for a television special after many years of estrangement.
In his review for The New York Times, Ben Brantley emphasized the aging of Klugman and Randall, writing "The effect is jolting at first, as though these men had suddenly been released from the deep-freeze of the small screen and started melting.  At 75 and 77, respectively, Mr. Krugman and Mr. Randall look, in a word, old.  They do not, however, act it.
"Oh, sure, they mime their characters' deterioration convincingly enough.  (Or Mr. Klugman does; Mr. Randall often seems ready to spring from his assumed stiffness and dance a tarantella.)  But there's the energy of young men in the rancor of the old comedians they portray: Al Lewis (Mr. Randall) and Willie Clark (Mr. Krugman), a pair of Smith-and-Dale headliners from a lost era of theater.  As Mr. Krugman, especially, makes clear, hostility can be a vitalizing force.  So can pretending that all the world is indeed only a stage on the vaudeville circuit."
Tags: ABC, Al Lewis, Allen Ludden, American Bandstand, Ben Brantley, Betty White, Billie Jean King, Bobby Riggs, broadcast or cable television, Broadway, Dan Sullivan, David Steinberg, Deacon Jones, Dick Clark, Edward Villella, Felix Unger, French restaurants, gambling, Gloria Unger, Howard Cosell, Hugh Hefner, Jack Klugman, Jaye P. Morgan, Joan Crosby, John Barbour, John Simon, Let's Make A Deal, Martina Arroyo, Match Game, Monday Night Football, Monty Hall, Neil Simon, New York, New York Herald, New York Times, November, November 13th, Odd Couple, Opera stars, Oscar Madison, Password, Paul Williams, Playboy, Richard Dawson, Richard Fredricks, Rodney Allen Rippy, Roone Allege, tennis, The New York Times, The Odd Couple, The Sunshine Boys, Tony Randall, Willie Clark, Wolfman Jack.