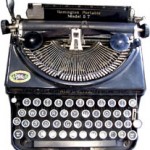 Leader.  Visionary.  Gentleman.
Leonard Goldenson.  The founder of ABC.
In the early years of television, NBC and CBS had dominance, prestige, and history.
ABC had Leonard Goldenson.
NBC and CBS had A-list talent.
ABC had Leonard Goldenson.
NBC and CBS had their blueprints for running a television network based on their radio networks.
ABC had Leonard Goldenson, a leader that gained the trust of his business partners, the loyalty of his staff, and the admiration of his competitors.
Goldenson, a visionary, took a struggling, unstable, and third-rate television network under his reign, shaping, building, and transforming it into a media force.  Further, he ruled with benevolence, knowing everyone's name in the building, from the executives in his inner circle to the janitorial staff.  He was, indeed, a gentleman giant.
Goldenson took over ABC in 1953; before Goldenson, the network was a mere shadow of its future self.  For all intents and purposes, Goldenson founded ABC.  Programming on the "alphabet network" broke ground, including Monday Night Football, Wide World of Sports, Roots.  A press release dated August 3, 2006 on the Paley Center for Media's web site describes Goldenson's impact; the release promoted The Gentleman Giant, a 2006 exhibit at the Museum of TV & Radio, the Paley Center's predecessor, sponsored by Loreen Arbus, one of Goldenson's three daughters.
ABC vaulted to prominence, ignited by Goldenson's passion.  The Gentleman Giant honors that legacy.  The aforementioned press release states, "In an era when television programming was almost entirely live and based out of New York, Goldenson persuaded Hollywood studios, such as Disney and Warner Brothers, to produce filmed programs that brought cinematic storytelling techniques to the small screen, giving birth to the modern television series.  Goldenson's innovations are legion.  Under his guidance, demographic analysis was used to find holes in the competitor's slates and fill them with offerings that appealed to the younger viewers more attractive to advertisers.  The creation of the blockbuster miniseries and the made-for-television movie allowed for the exploration of social issues and brought a sense of occasion to home viewing.  And innovations in the presentation of sports, such as instant replay, made ABC the undisputed leader in the field."
Beyond the boardroom, Goldenson was a philanthropic force inspired by his oldest daughter, Genise.  Born in 1943 with cerebral palsy, Genise had the benefits provided by wealthy parents able to afford the best medical care.  Leonard and Isabelle Goldenson met Jack and Ethel Hausmann, a couple facing a similar circumstance.  As he did so often in building ABC into a media colossus, Goldenson saw opportunity where others saw obstacles.  While his power opened doors to the political, cultural, and business elite, other doors remained closed.  Or worse, slammed in his face.  People were ignorant, cruel, or just plain unknowing about treating disabled people, both medically and personally.
The Goldensons and the Hausmanns joined to form United Cerebral Palsy in 1948; they formed the United Cerebral Palsy Research and Educational Foundation in 1955.  Because of the framework established by the Goldensons and the Hausmanns, researchers developed the first fetal heart monitor, isolated the rubella virus, and took the first steps toward conquering neonatal jaundice.
Isabelle Goldenson spearheaded a movement to spotlight the disabled.  Her passion for improving conditions, treatment, and access regarding disabled people led to new laws that seem simple, in retrospect, but revolutionary at the time of their respective creations.  For example, buses allowing wheelchair access with special steps, ramps at crosswalks, and Handicapped Only parking spaces resulted from Mrs. Goldenson's refusal to submit to society's ignorance.