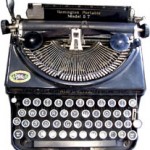 Television's progress as a creative medium began, arguably, with I Love Lucy, starring Lucille Ball and Desi Arnaz.  When the television series about a ditzy redhead married to a Cuban bandleader premiered on CBS in 1951, it introduced the three-camera format with different sets on a soundstage.
Producers adopted the format, making it a television production model still in use today.  Additionally, Arnaz exercised forethought in securing the rights to the film negatives of I Love Lucy, thereby ensuring control of future broadcasts in syndication.
There was a major condition, however.  On its web site, the Museum of Broadcast Communications explains, "Syndication of reruns had not yet become standard procedure, but television's inevitable growth meant that the return on serious investment in a television series was incalculable.  The network finally agreed to the couple's demands, but as a concession asked Ball and Arnaz to pay the additional cost of production and to accept a reduced fee for themselves.  In exchange [production company] Desilu was given one-hundred  [sic] percent ownership of the series—a provision that quickly turned Ball and Arnaz into the first millionaire television stars."
Hill Street Blues premiered 30 years later, stretching the one-hour drama genre past the format of a storyline existing for one episode.  While previous shows had multi-episode stories, Hill Street Blues made this storytelling technique acceptable because of the critical acclaim received during its rookie year, culminating in several Emmy Awards.
thirtysomething, St. Elsewhere, and L.A. Law used the blueprint created by Hill Street Blues, garnering Emmy Awards in the process.  By the 1980s, television audiences were ready for television fare to rise up the sophistication ladder.  In a 1984 interview with People magazine, NBC Entertainment President Brandon Tartikoff said, "When I look at the TV landscape and see the sameness of the product, it gets pretty dismal.  I suppose we contribute to that, but our heart is in the right place.  [NBC Chairman and CEO] Grant [Tinker] is always asking where the next series is that will make us proud of what we do.  Sometimes I'd like to take television where it's never been before."
The Sopranos premiered in 1999, making HBO a destination for quality programming.  Starring James Gandolfini as Tony Soprano, a mob boss based in northern New Jersey, The Sopranos made an antihero character appealing.  Tony was a thug, to be sure, but he also displayed compassion for his families, the one residing in his house and the one serving him and competing with him in the mafia hierarchy.  On the subject of the latter, those who crossed Tony did so at their own peril, financial and otherwise.
In its review, The Hollywood Reporter stated, "Whatsamatter?  You think crime bosses don't have personal problems and family aggravation?  Hey, they're just like the rest of us.  When they do strap on their weapons, they do it one gun at a time."  In addition, THR explained, "The Sopranos challenge is to convince its audience that, when the truck hijackings are over and the knee caps are bandaged, this is just another family with the same kinds of problems to which we can all relate.  Without that element of self-recognition, The Sopranos would be little more than The Godfather meets DiResta.  Executive producer-creator-writer-director David Chase rises to the challenge, though, with incredibly absorbing scripts and the help of a remarkable cast."
DNA of The Sopranos can be found in Dexter, House, The Wire, and Scandal, among other programs which focused on antihero characters, somehow turning them into protagonists to root for, rather than against.
Somewhere, J.R. Ewing is smiling.