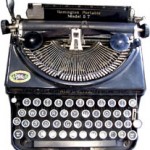 Take a sweet, innocent, and wide-eyed young woman from the Midwest and put her in an encounter with three men.  One is fairly wooden, showing emotions rarely.  One does not have much in the way of intelligence, common sense, or decorum.  One growls a lot, but is rather cowardly in certain instances.
The Wizard of Oz?  Absolutely.  But the paradigm also fits Mary Tyler Moore, the powerhouse CBS situation comedy that aired from 1970 to 1977.  Commonly, but incorrectly, it is called The Mary Tyler Moore Show.
Mary Tyler Moore played Mary Richards, a thirty-year-old woman escaping suburban Minnesota for Minneapolis after a relationship went sour.  In the newsroom of television station WJM, Mary starts as an Associate Producer of the 6 O'Clock news program.  After a few seasons, she gets promoted to Producer.  The trio of males at the center of Mary Tyler Moore, fit nicely into the personas popularized in The Wizard of Oz.
Murray Slaughter, WJM's ace news writer, used humor as a defense mechanism to prevent him from revealing his true emotions.  Typically, the target of his humor was Ted Baxter, the clueless but handsome WJM news anchor.  Murray's insults to Ted paralleled a running theme in Mary Tyler Moore's breakthrough show, The Dick Van Dyke Show, which showcased the work and home lives of Rob Petrie, played by Dick Van Dyke.  Moore played Laura Petrie, Rob's wife.  Rob, Head Writer for The Alan Brady Show, witnessed the aim that his colleague, Buddy Sorrell took at Mel Cooley, the show's producer.  Cooley's baldness provided the source for many Sorrell jabs.  Morey Amsterdam and Richard Deacon played Buddy and Mel, respectively.
Murray's attempts at revealing emotions proved awkward.  For example, in an episode revolving around Murray's romantic feelings for Mary, the friendship between colleagues who worked together smoothly suffered potential jeopardy.  Murray's emotions, suppressed as they were, confused Mary.  It creates a parallel between a certain Tin Woodsman desiring a heart and Murray desiring an emotionally charged relationship with Mary.  Add Murray's constant humor masking emotions throughout Mary Tyler Moore, and the parallel receives further credence.
Lou Grant, WJM's Executive Producer of the 6 O'Clock news program, boasted a tough demeanor but had vulnerability, like the Cowardly Lion.  In the show's first episode, he interviews Mary for a job.  In a classic scene, he tells Mary, "You've got spunk.  I hate spunk!"  On several occasions, Lou defended himself from the clutches of Sue Ann Niven, host of WJM's Happy Homemaker, by offering excuses, insults, and simple avoidance.  Sue Ann prevailed, however, for one night of passion with the seasoned veteran showcasing a gruff exterior.  Though he condescended toward Ted because of the latter's goofiness, Lou revealed vulnerability when Ted got an offer to be a game show host in New York City.  Simply, he did not want Ted to leave, so he used the guise of being a part of the special world of journalism, an experience that cannot compare to the lucrative job offer presented.  Ted stayed.
Presenting authority with a baritone voice, Ted did not understand the stories he presented, much less the trials, travails, and tribulations of Murray, Mary, Lou, and others gracing the WJM newsroom.  Like the Scarecrow, Ted did not have the essence of intelligence.  He did however, possess charisma, amiability, and wonder.  Murray, of all people, gave a speech in one episode declaring that he would miss Ted should the anchor ever leave.  One can make the argument that Ted Baxter was a forerunner of the Tom Grunick character played by William Hurt in the 1987 movie Broadcast News.  Like Ted, Tom is a handsome newsman lacking in depth.  No mystery here.  James L. Brooks wrote and directed Broadcast News.  He also created Mary Tyler Moore with Allan Burns
Tags: 1970, 1977, 1987, 6 O'clock news, Allan Burns, Associate Producer, Broadcast News, Buddy Sorrell, CBS, Cowardly Lion, Dick Van Dyke, Executive Producer, Happy Homemaker, James L. Brooks, Laura Petrie, Lou Grant, Mary Richards, Mary Tyler Moore, Mel Cooley, Midwest, Morey Amsterdam, Murray Slaughter, news writer, producer, Richard Deacon, Rob Petrie, Scarecrow, Sue Ann Niven, Ted Baxter, The Dick Van Dyke Show, The Mary Tyler Moore Show, The Wizard of Oz, Tin Woodsman, Tom Grunick, William Hurt, Wizard of Oz