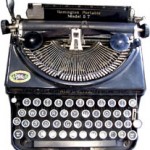 M*A*S*H had a terrific roster of guest stars during its run from 1972 to 1983 on CBS.  Ron Howard.  Laurence Fishbone.  Andrew Duggan.  Rosalind Chao.  Dennis Dugan.  Blythe Danner.  James Cromwell.  Leslie Nielsen.  Gwen Verdon.  George Wendt.  Mary Wickes.  Susan Saint James.  Shelley Long.  Mary Kay Place.  Edward Herrmann.  Andrew Dice Clay.
 And that's just the tip of the scalpel.
Before he took the role of Colonel Potter, Harry Morgan guest starred in the 1974 episode The General Flipped at Dawn.  He played General Hamilton Steele, a military disciplinarian who inspects the 4077th, gives fictional quotes from generals, and lives in his own world.
While reviewing the troops, Steele tells Father Mulcahy that he'd like to see a shine on the cross that the priest wears.  When Klinger comes dressed like a woman to convince the general that he's a candidate for a Section 8 discharge, Steele dismisses him.  He says, "Not now Marjorie, I'm inspecting the troops."
The conflict in the episode stems from Steele's unnecessary order to move the M*A*S*H 4077th unit to a location closer to the front.  "You do your best business on Main Street," says Steele.  Another explanation:  "M*A*S*H means Mobile Army Surgical Hospital and mobile you shall be."
Unfortunately, Steele needs a helicopter to view the move at the same tim that Hawkeye needs a helicopter to transport a patient to Tokyo for further medical treatment.  A shouting match leads to Hawkeye telling Steele that he's nuts.  A court martial of Hawkeye ensues with disastrous results after Steele makes racial comments to the black helicopter pilot during the hearing.  Teddy Wilson played the pilot.  He reunited with Morgan in 1987 for the short-lived television series You Can't Take It With You.
Morgan played Potter as wise, compassionate, and avuncular.  He played Steele as single-minded.  But instead of making him a caricature, Morgan made him a realistic person unafraid to use his authority, clueless though he may be.
Harry Morgan died on December 7, 2011 at the age of 96.  Adam Bernstein's obituary of Morgan in The Washington Post declared:  "Mr. Morgan—billed as Henry Morgan for much of his early career—was slight and balding and had a gravelly voice that could convey menace, irritation or wryness.  Such versatility kept him in near-constant demand as a performer, and he became an instantly recognizable screen personality."
M*A*S*H writer Ken Levine eulogized Morgan on his web site kenlevine.blogspot.com:  Harry was very much like Colonel Potter.  He raised horses, and in fact, in the final episode when he says goodbye to Sophie, that really was one of Harry's horses.  The picture on Potter's desk was of Harry's real wife, Eileen.  And the only difference in personalities between Harry and Sherman [Potter] is that Harry held his liquor better."
On his web site www.mikefarrell.org, M*A*S*H co-star Mike Farrell wrote:  "It's harder for me to separate Harry and Col. Potter because I adore them both so much.  Col. Potter was the father figure we all loved and admired.  A straight-arrow, regular army, by the book type who, just beneath the surface, was a marshmallow [sic].  Harry Morgan is a wonderful guy and a good friend.  He's full of stories, jokes, wry humor and is a delight to be around.  He is and ought to be a motion picture and television legend."
Farrell and Morgan joined the M*A*S*H cast in the show's fourth season.  They stayed for the next eight seasons, until the show's epic season finale on February 28, 1983.
Tags: 1972, 1974, 1983, 4077th, Adam Bernstein, Andrew Dice Clay, Andrew Duggan, Blythe Danner, Colonel Potter, Dennis Dugan, Edward Herrmann, Eileen, Father Mulchahy, General Hamilton Steele, George Wendt, Gwen Verdon, Harry Morgan, James Cromwell, Ken Levine, Laurence Fishburne, Leslie Nielsen, liquor, M*A*S*H, Mary Kay Place, Mary Wickes, Mobile Army Surgical Hospital, Ron Howard, Rosalind Chao, Shelley Long, Sophie, Susan Saint James, Teddy Wilson, The General Flipped at Dawn, The Washington Post, You Can't Take It With You