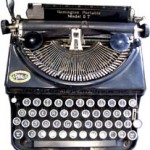 Warner Brothers churned out animation during World War II like an assembly line.  Its animated short films injected optimism into the American spirit.
In Super Rabbit (1943), Bugs Bunny takes on the persona of the title character, a parody of Superman.  He battles the enemy in the European theater.  Daffy Duck also saw action, coming face to face with Adolf Hitler in Daffy the Commando (1943) and resisting a Nazi seductress, Hatta Mari, in Plane Daffy (1944) while on a secret mission.
The Weakly Reporter (1944) shows life on the home front, including shortages, rations, air raids.  In their 1989 compendium Looney Tunes and Merrie Melodies:  A Complete Illustrated Guide to the Warner Brothers Cartoons, Jerry Beck and Will Friedwald explain this animated takeoff on a World War II newsreel.  The animated short film reflects the atmosphere of American citizens dealing with the war's impact on day to day living.
"The nation's solidarity during wartime is shown with the Statue of Liberty wearing an air raid warden's arm band, the heads on Mt. Rushmore in air raid warden helmets, and the state of Florida with a 'We Love California' sign stuck in it.  There are numerous other homefront gags.  After an auto accident, the ambulance picks up the rubber tires.  A woman asks a butcher if he has porterhouse steak.  She can afford only to smell it at a cost of $1.19.  Hoarding is a thing of the past, but you can't hoard too many War Bonds."
Warner Brothers also contributed Private Snafu to the war effort.  The name is an acronym for a military term meaning Situation Normal All F***ed Up.
Snafu exemplifies the opposite of a model solider.  He screws up by not paying attention to the big picture.  Snafu films convey the import of missions to the soldiers, sort of a humorous corollary to Frank Capra's Why We Fight series.  Messages include how not to spend your money foolishly on women and drinks in exotic places (Pay Day), how to keep your mission a secret (Spies), importance of doing research and reconnaissance (Snafuperman), and the danger of rumors (Rumors).
Theodore Geisel was a notable contributor to the Snafu films.  We know him better by his pseudonym — Dr. Seuss.  Other contributors include legendary Warner Brothers animation directors Chuck Jones, Friz Freleng, and Bob Clampett.  Steve Schneider notes Clampett's fit with the World War II era in the 1988 book That's All Folks!  The Art of Warner Brothers Animation.
"In many ways, Clampett was the right man for his time.  His aggressiveness and lack of restraint fit the mood of the World War II years, when spirits were high and the entire country was in gear to strike out at an oppressor."
Mainstream films during World War II also derived stories from war themes, for example, Mrs. Miniver and Casablanca.  But war themes in Hollywood's film product predated America's involvement triggered by the Japanese bombing of Pearl Harbor on December 7, 1941.
The United States Senate called one of the Warner brothers to testify about the studio's involvement with propagandizing and alleged war mongering.  On September 25, 1941, Harry M. Warner, President of Warner Brothers Pictures, Incorporated, gave a prepared statement to the Hearing Before the Subcommittee of the Committee on Interstate Commerce, United States Senate, Regarding Moving Picture Propaganda.
"In conclusion, I tell this committee honestly, I care nothing for any temporary advantage or profit that may be offered to me or my company.  I will not censor the dramatization of the works of reputable and well informed writers to conceal from the American people what is happening in the world.  Freedom of speech, freedom of religion and freedom of enterprise cannot be bought at the price of other people's rights.  I believe the American people have a right to know the truth.  You may correctly charge me with being anti-Nazi.  But no one can charge me with being anti-American.
Thank you, gentlemen, for your courtesy in listening to me."