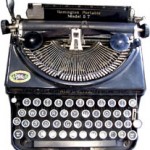 When I Love Lucy utilized Hollywood as its setting, movie stars provided verisimilitude.  Lucy Ricardo, starstruck, attempted to meet them, often with hilarious results.  Guest stars included William Holden, Van Johnson, Richard Widmark, and Harpo Marx.  But Lucy's encounter with John Wayne presents, arguably, the first instance of cross-marketing on television.
Lucy and her best friend, Ethel Mertz, steal John Wayne's footprints from Grauman's Chinese Theater.  Then, they attempt to convince Wayne to make another set of footprints.  The episode's dialogue references the current movie on which John Wayne is working.  Blood Alley.  In a later scene set in John Wayne's trailer, an assistant shows the proposed movie poster to the star.  Wayne thinks it is okay, but he suggests that the assistant show the poster to the film's director, William Wellman.
Although the exchange lasts a few seconds, it is brilliant in its simplicity, subtle in its promotion of Blood Alley and viable in its realism.
First, the simplicity.  The scene revolves around a simple question asked by the assistant with a brief response by Wayne.  No elaborate explanation of the film.  No empty dialogue.  No complications.  It is simple, strong, and succinct.
Second, the subtlety.  The assistant holds up the poster, allowing the audience to see what Wayne sees.  Because he only shows the poster for a few seconds, the scene does not insult, browbeat, or overtake the audience.  It is effective, indeed.
Third, the viability.  Because Wayne was shooting Blood Alley concurrently with the I Love Lucy episode, the scene is logical.  Realistically, a star would want to see the movie poster.
Starring Lucille Ball in the title role, I Love Lucy aired on CBS from 1951 to 1957.  In the article Ask Her Anything About Desi Sr., Divorce, Drugs Gay Rights—Lucy Ball Hasn't Become Bashful at 68 in the February 11, 1980 issue of People, Ball explains the reasons behind taking on the challenge of a television show.  "I sure as hell didn't know what I was doing when I started," Ball reveals.  "I had too wide a variety of parts to know who or what I was.  TV started for me just as a means of keeping my husband Desi off the road.  He'd been on tour with his band since he got out of the Army, and we were in our 11th year of marriage and wanted to have children."
Comedy, in fact, was not the launching pad for Ball's career; Ball started in glamorous roles.  "Eddie Cantor and Sam Goldwyn found that a lot of the really beautiful girls didn't want to do some of the things I did—put on mud packs and scream and run around and fall into pools," Ball states.  "I said I'd love to do the scene with the crocodile.  He didn't have teeth but he could sure gum you to death.  I didn't mind getting messed up.  That's how I got into physical comedy."