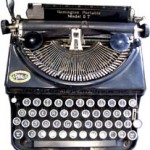 Carl Reiner created The Dick Van Dyke Show as a parallel to his own life as a television comedy writer.  Indeed, Reiner initially played the main character, Robert Petrie, in a failed television pilot.
CBS rejected the pilot, Head of the Family, but aired it as part of The Comedy Spot, an anthology show, on  July 19, 1960.  The characters of Sally and Buddy were played by Sylvia Miles and Morty Gunty, respectively.  Gunty's portrayal of Buddy contrasts with Morey Amsterdam's portrayal in The Dick Van Dyke Show.  Where Amsterdam played a comedy veteran with a seemingly endless supply of one-liners, Gunty's Buddy was 23 years-old and a hypochondriac.
Another contrast is the boss.  In Head of the Family, the writers work for Alan Sturdy.  The audience hears Sturdy but never fully sees him.  Jack Wakefield played Sturdy.  Reiner changed the name to Alan Brady for The Dick Van Dyke Show where he played Brady, a comedy genius with an ego the size of Montana, in several episodes.
Reiner drew inspiration from his comedy career, specifically as a writer and performer for Sid Caesar in the 1950s comedy-variety programs Your Show of Shows and Caesar's Hour.  He lived in New Rochelle at 48 Bonnie Meadow Road with his family — wife Estelle and son Rob, born in 1947 and commuted to Manhattan.  Rob Reiner later starred in All in the Family as Mike Stivic and became an A-list film director.
The Dick Van Dyke Show centered on the professional personal lives of Robert Petrie, Head Writer for the comedy-variety program The Alan Brady Show.  Played by Dick Van Dyke, Rob Petrie lived in New Rochelle at 148 Bonnie Meadow Road — Reiner added the number 1 to his former address — with his family, wife Laura and son, Richie.  Mary Tyler Moore played Laura and Larry Matthews played Richie.
Like Reiner, Rob commuted to Manhattan.  He worked with co-writers Sally Rogers and Buddy Sorrell to craft comedy greatness for their megalomaniacal boss.  Rose Marie played Sally Rogers.  Richard Deacon played Mel Cooley, the producer of The Alan Brady Show and Brady's brother-in-law.
The Dick Van Dyke Show aired on CBS from 1961 to 1966.  Reiner reprised his Alan Brady character for a guest appearance on the 1990s NBC sitcom Mad About You and The Alan Brady Show, a 2003 animation tv-movie for TV Land.  The cast of The Dick Van Dyke Show reunited for The Dick Van Dyke Show Revisited, a 1-hour episode in 2004.  CBS aired this reunion episode with a storyline revolving around Alan Brady recruiting Rob to write his eulogy.  Archival footage of The Dick Van Dyke Show appeared as flashbacks.